PRESERVE   *   COMMEMORATE   *   CELEBRATE
APRIL 9, 2021 - A Proud Day In Iowa's History
On this day in 1921, the Iowa Legislature launched the Bureau of Criminal Investigation (BCI), starting a long tradition of partnership with Iowa law enforcement agencies. We celebrate 100 years of proudly serving Iowa citizens in communities across the state with professionalism, expertise, and compassion in support of our law enforcement partners.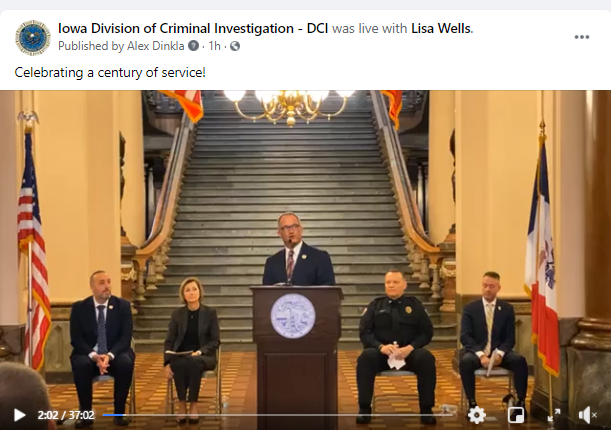 PUBLIC COMMEMORATION EVENT
SPECIAL GUESTS: Governor Reynolds, Senator Dan Dawson, Marshalltown Police Chief Michael Tupper
Friday, April 9, 2021
State Capitol - 1st Floor Rotunda
*Click the photo to watch the DCI Facebook Livestream at April 9, 2021 10:05 a.m.
Honoring Our Past — Shaping Our Future
For much of our existence, we have operated in the shadows to help find answers to Iowa crimes from the days of helping apprehend the infamous "Barrow Gang," to assisting with the crash of United Flight 232, to decades of identifying and recording offenders in all 99 counties. In 2021, we shine a light on our past and future together. We will remember the commitment of early staff who shaped our division, and honor our current talented investigation and support teams who work to bring justice to victims and their families and hold those responsible for their crimes day in and day out. 
Continuing A Tradition Of Service 
From the Iowa General Assembly's initial commitment in 1921 to investigate personal crimes, we have evolved and grown into a division that provides a full spectrum of criminal investigation services: 
Criminalistics Laboratory
Criminal History Record Checks
Fingerprint Identification
Field Operations
Missing Person Information Clearinghouse
Sex Offender Registry
Special Enforcement Operations Bureau
Support Operations
Convicted Offender Web Program

"100 Moments" Series
Since 1921, agents, criminalists, and support staff have excelled at documenting what we have done. The case reports, laboratory files, criminal history records, and offender tracking are each a testament to our ability to catalog our activities down to minute details. Those details have brought comfort to families, trust in a regulated industry, and justice to offenders. The combination of investigative details and the accompanying stories have created the moments that make the Bureau/Division of Criminal Investigation the agency that it is today. Many of these fascinating stories have never been told.
We're sharing stories throughout the year, so please revisit us often or follow us on our Facebook pages @IowaDCI and @DCICentennial. Enjoy!
100 MOMENTS #0-10

100 MOMENTS #11-20

 

100 MOMENTS #21-30

100 MOMENTS #31-40
100 MOMENTS #41-50

Please check back soon!

100 MOMENTS #51-60

Please check back soon!
100 MOMENTS #61-70

Please check back soon!

100 MOMENTS #71-80

Please check back soon!
100 MOMENTS #81-90

Please check back soon!

100 MOMENTS #91-100

Please check back soon!