DPS Launches New Website: dps.iowa.gov
Debbie McClung
Bureau Chief, Strategic Communications Bureau
November 26, 2019
DES MOINES, Iowa -- The Iowa Department of Public Safety is pleased to announce the launch of a new, redesigned website – dps.iowa.gov. The improved site provides customers a more simplified and modern tool to access services, locate information, find career opportunities and connect with staff. The site features content and programs available to the public and law enforcement agencies through the Department's six divisions: the Iowa State Patrol, Division of Criminal Investigation, State Fire Marshal, Division of Narcotics Enforcement, Division of Intelligence and Fusion Center and Administrative Services.
Other key Department operations offering useful online content include the Commissioner's Office, as well as the Governor's Traffic Safety Bureau, Fire Service Training Bureau, Professional Standards Bureau, Interoperability Communications Bureau and Strategic Communications Bureau.
The user-friendly site centers on an upgraded digital platform to conduct a wide variety of public safety services ranging from criminal history record checks and fire safety training to licensing and permits. It also provides driving tips, forensic science guidelines, and valuable data and resources from across the Department.
Designed with users in mind, the new website offers:
Simplified homepage
Streamlined navigation
Improved search capabilities
Frequently Asked Questions
Responsiveness for mobile devices
More visuals and interactive content
"We are committed to providing our visitors with a modern and customer-centric web experience," said Iowa Department of Public Safety Commissioner Stephan Bayens. "By improving the online delivery of our content, it moves the Department forward in telling the public safety story and demonstrating our mission to serve, educate and train Iowans and other stakeholders."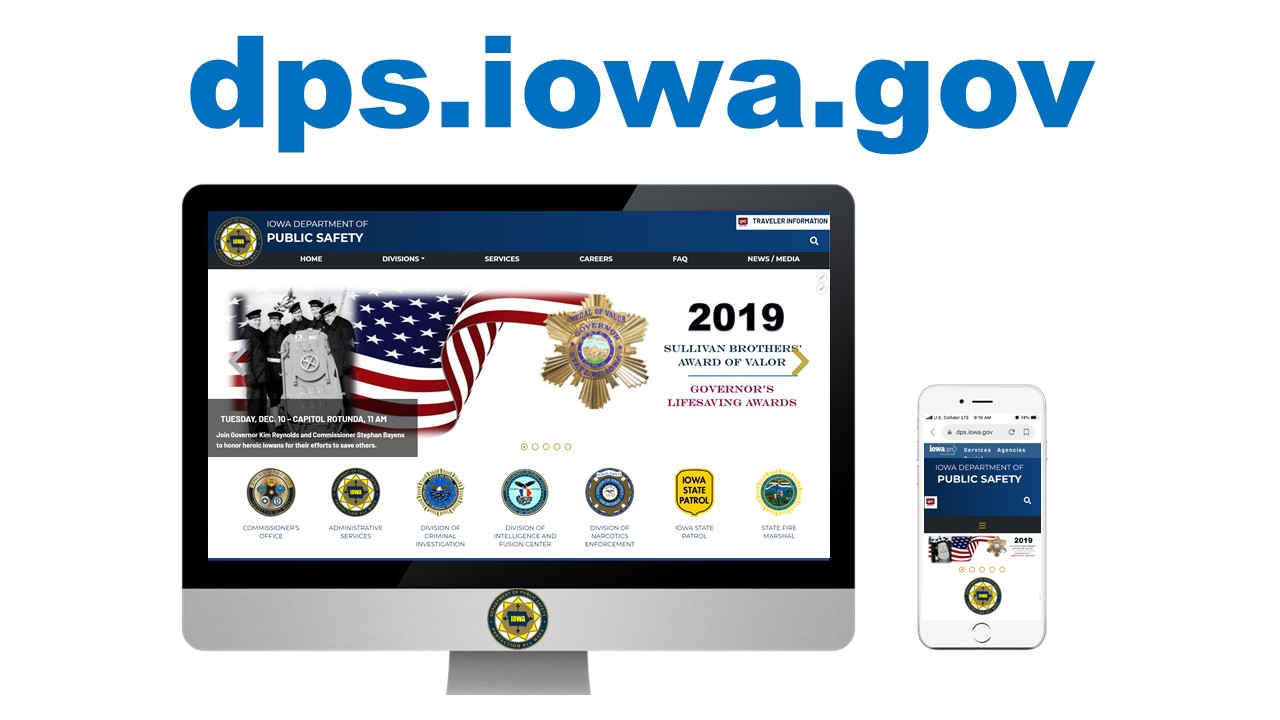 ABOUT THE IOWA DEPARTMENT OF PUBLIC SAFETY
The Iowa Department of Public Safety (DPS) is the largest law enforcement agency in the state. It includes six divisions and several bureaus, all working together with local, state and federal government agencies and the private sector, to keep Iowa a safe place by following our core values: leadership, integrity, professionalism, courtesy, service and protection. Divisions within the Iowa DPS: Iowa Division of Criminal Investigation, Iowa Division of Narcotics Enforcement, Iowa State Patrol, Iowa State Fire Marshal Division, Iowa Division of Intelligence and Fusion Center, and Administrative Services Division. The Department of Public Safety is led by the Commissioner who is appointed by the Governor.