DCI Assists With Kossuth County Investigation
Mike Krapfl
Special Agent in Charge
January 12, 2021
ALGONA, Iowa - On January 11, the Iowa Division of Criminal Investigation received a request to assist the Kossuth County Sheriff's Office regarding a welfare check associated with an animal neglect investigation at 407 Clay Street in Whittemore, Iowa.  The DCI Crime Scene Team assisted at the residence after officers made the residence safe.  The DCI is continuing to assist with this on-going investigation. Please see the attached press release from the Kossuth County Sheriff's Officer regarding this incident.  Any additional information regarding this incident will be released by the Kossuth County Sherriff's Office and posted here.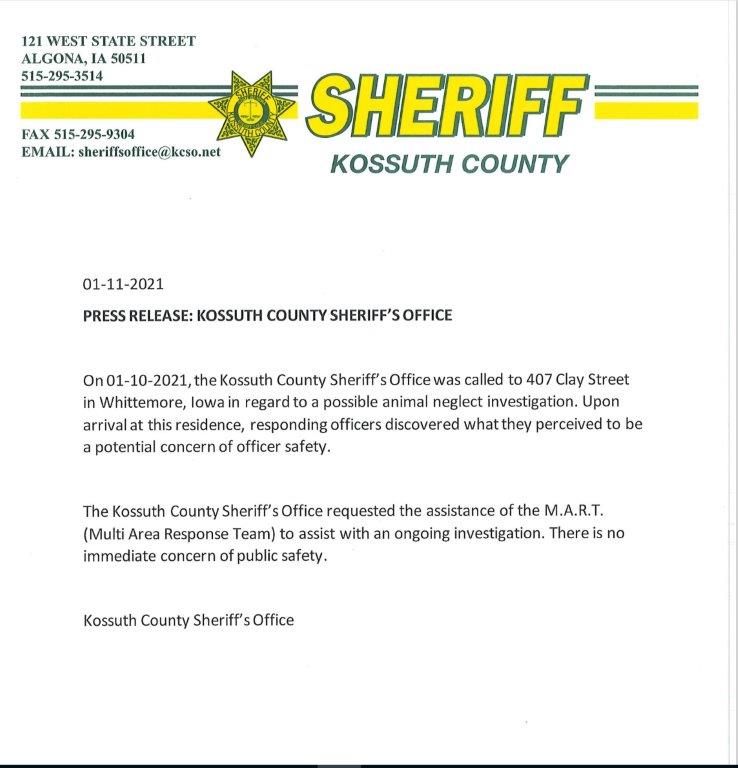 ABOUT THE IOWA DEPARTMENT OF PUBLIC SAFETY
The Iowa Department of Public Safety (DPS) is the largest law enforcement agency in the state. It includes six divisions and several bureaus, all working together with local, state and federal government agencies and the private sector, to keep Iowa a safe place by following our core values: leadership, integrity, professionalism, courtesy, service and protection. Divisions within the Iowa DPS: Iowa Division of Criminal Investigation, Iowa Division of Narcotics Enforcement, Iowa State Patrol, Iowa State Fire Marshal Division, Iowa Division of Intelligence and Fusion Center, and Administrative Services Division. The Department of Public Safety is led by the Commissioner who is appointed by the Governor.