DCI Investigates Waterloo Officer-Involved Shooting
Mike Krapfl
Special Agent In Charge
August 15, 2022
WATERLOO, Iowa - On Saturday, August 13, the Waterloo Police Department requested the Iowa Division of Criminal Investigation to investigate an officer-involved shooting that occurred at about 4:30 p.m. near the intersection of Dubuque Road and Adrian Street in Waterloo.
Officers with the Waterloo Police Department were originally called to the Flavor Shop at 2301 Lafayette Street on the report of a man waving a gun.  That man was later identified as Michael Ahrens, age 32, no permanent address.  Officers located Ahrens walking west on Dubuque Road and ordered him several times to drop the gun.
Officers fired less-than lethal rounds at Ahrens in an effort to get Ahrens to drop the gun and Ahrens continued to refuse.  Ahrens pointed the weapon at officers twice, after which two Waterloo police officers fired at Ahrens.  Ahrens was struck twice.  Ahrens was transported to the University of Iowa Hospital and Clinics where he later died.
The weapon Ahrens held was later identified as an airsoft pistol.
Audio and video of the incident was captured on several Waterloo PD body cameras.  Upon completion of the investigation, the case report will be forwarded to the Blackhawk County Attorney's Office for review.  The officers have been placed on paid administrative leave.
Airsoft Pistol: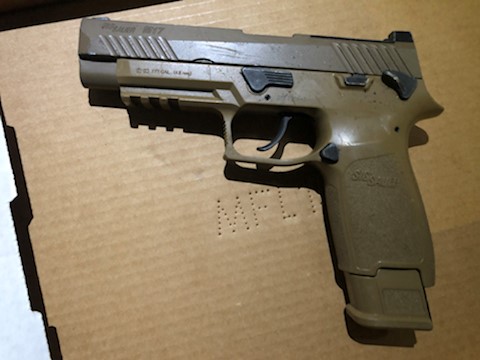 ABOUT THE IOWA DEPARTMENT OF PUBLIC SAFETY
The Iowa Department of Public Safety (DPS) is the largest law enforcement agency in the state. It includes six divisions and several bureaus, all working together with local, state and federal government agencies and the private sector, to keep Iowa a safe place by following our core values: leadership, integrity, professionalism, courtesy, service and protection. Divisions within the Iowa DPS: Iowa Division of Criminal Investigation, Iowa Division of Narcotics Enforcement, Iowa State Patrol, Iowa State Fire Marshal Division, Iowa Division of Intelligence and Fusion Center, and Administrative Services Division. The Department of Public Safety is led by the Commissioner who is appointed by the Governor.