Iowa State Patrol Teams Up For Multi-State Enforcement Initiative, Participates in Cruiser Photo Contest
Alex Dinkla
Public Information Officer - Iowa State Patrol
July 17, 2020
LEE'S SUMMIT, Missouri - The leaders of five State Police agencies and the National Highway Traffic Safety Administration (NHTSA) met yesterday to announce a collaborative effort to address the dramatic rise in excessive speeding across the Midwest during the COVID-19 pandemic. Troopers in the five-state region will conduct a speed enforcement initiative this weekend, July 17-18, to increase roadway safety and prevent fatalities.
Partners in the NHTSA Region 7 speed enforcement initiative included NHTSA Regional Administrator Susan DeCourcy, as well as Iowa State Patrol Colonel Nathan Fulk, Arkansas State Police Colonel Bill Bryant, Kansas Highway Patrol Colonel Herman Jones, Missouri Highway Patrol Colonel Eric Olson and Nebraska Highway Patrol Colonel John Bolduc. All five state agencies reported increases in citations for vehicles traveling more than 100 miles per hour.
"Law enforcement is seeing a significant increase in excessive speeding related to the pandemic. We've seen reduced vehicle miles traveled producing less congested roadways, and it's creating a driver perception that law enforcement isn't out enforcing traffic laws. Our priority is to reduce traffic-related injuries and preventable deaths in the Midwest," said Iowa State Patrol Colonel Nathan Fulk.
Since January 2020, the Iowa State Patrol has seen a 113% increase in citations issued (780) for speeds exceeding 100 mph over the four-year average, and a 70% increase in citations issued for speeds of 25 mph or more over the posted speed limit (2,119). "The data is alarming and unprecedented, and shows why we need motorists to understand that this type of driving behavior is not the new normal," Fulk said, adding that the speed initiative reinforces the Iowa State Patrol's ongoing initiative called "SIDE With Us" aimed at educating the public on ways to increase their traffic safety.
"We are asking the public to SIDE with us to decrease fatal crashes under 300 annually – a goal that may be achieved this year for the first time since 1925," Fulk said. "SIDE is an acronym for seat belts, impaired driving, distracted driving, and excessive speed. We are asking the public's help to please put the phone down, slow down and buckle up," Fulk says. Unlike other states in the initiative that are experiencing higher motorist facility counts, Iowa's traffic fatality count to date is 130 – down 35 deaths or 21% since 2019.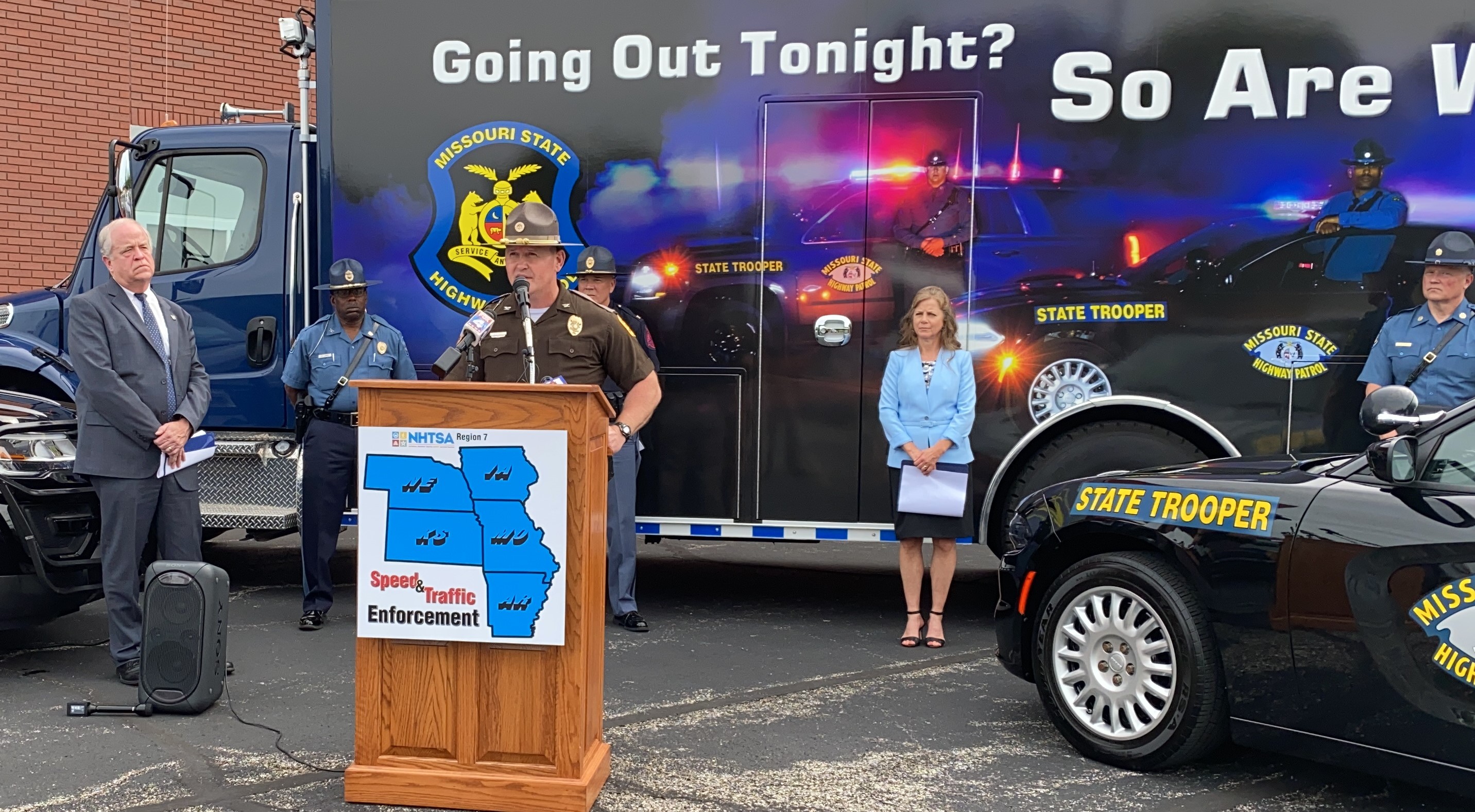 Link to Speed Enforcement Press Conference Photo
Link to Iowa State Patrol Facebook Livestream
Link to Iowa State Patrol Colonel Nathan Fulk Video Clip1
Link to Iowa State Patrol Colonel Nathan Fulk Video Clip2
Iowa State Patrol Competes In AAST Cruiser Contest
The Iowa State Patrol also is participating in the 7th annual American Association of State Troopers Best-Looking Cruiser contest. The public is encouraged to cast their vote for the Iowa State Patrol cruiser though this Wednesday, July 22. The top 12 states receiving votes in the contest will have their photo included in the 2021 AAST Cruiser Calendar. 
The AAST calendar contest rewards creative and impactful photo submissions in an effort to help promote the lives and work of State Troopers across the country. This year, renowned Des Moines-based photographer Mirza Kudic photographed an Iowa State Patrol Dodge squad car with one of the law-enforcement agency's aircraft at the Ankeny Regional Airport.
CAST YOUR VOTES TODAY: One vote may be cast from each electronic device. Votes are being collected through Wednesday, July 22, at 11:00 p.m. CST through this free Survey Monkey link: surveymonkey.com/r/T9XVPN3
In the contest's latest standings, the Iowa State Patrol cruiser photo had garnered 5,847 votes for a 14th place spot, and is close to edging out Missouri and Minnesota for its first appearance in the calendar.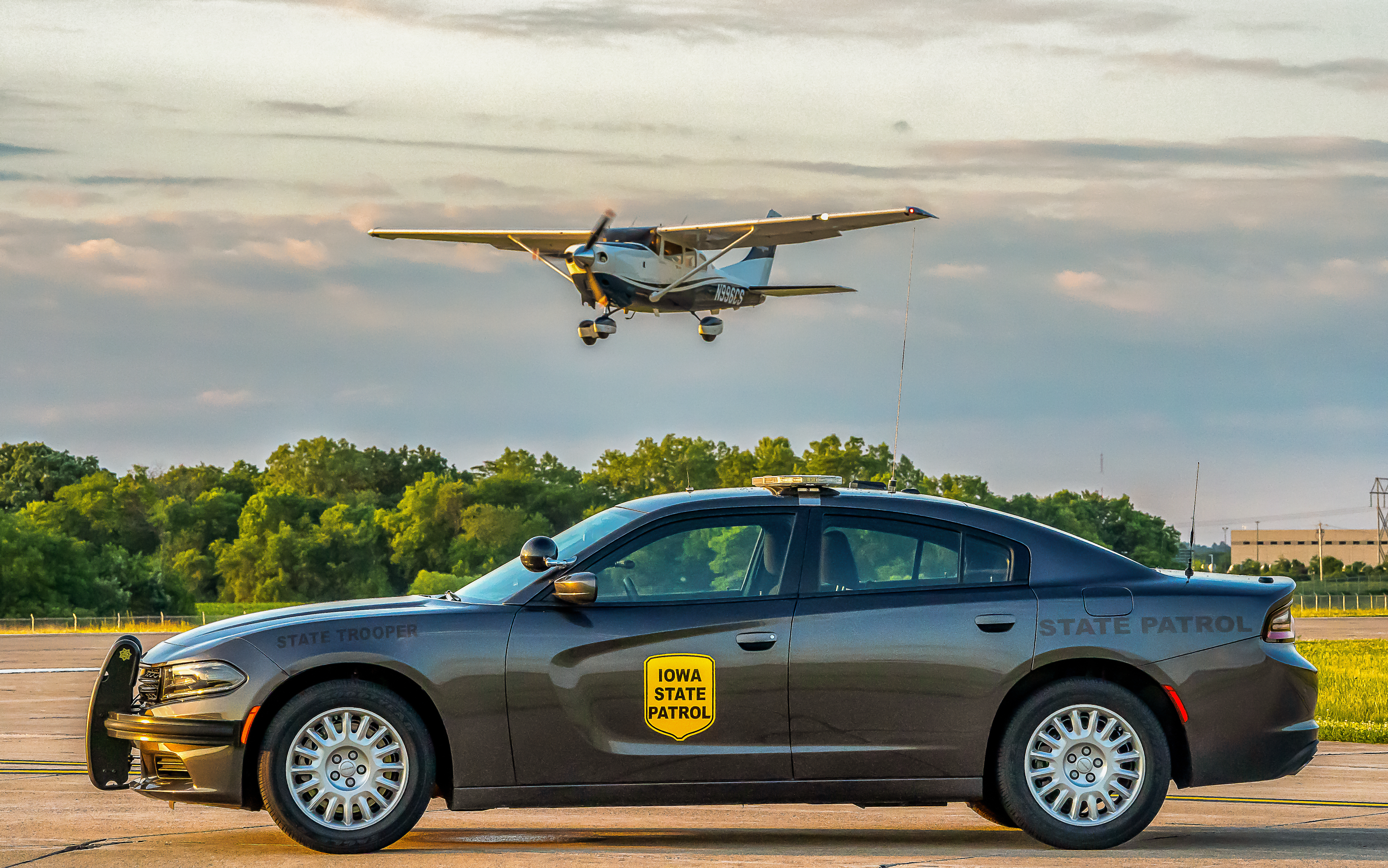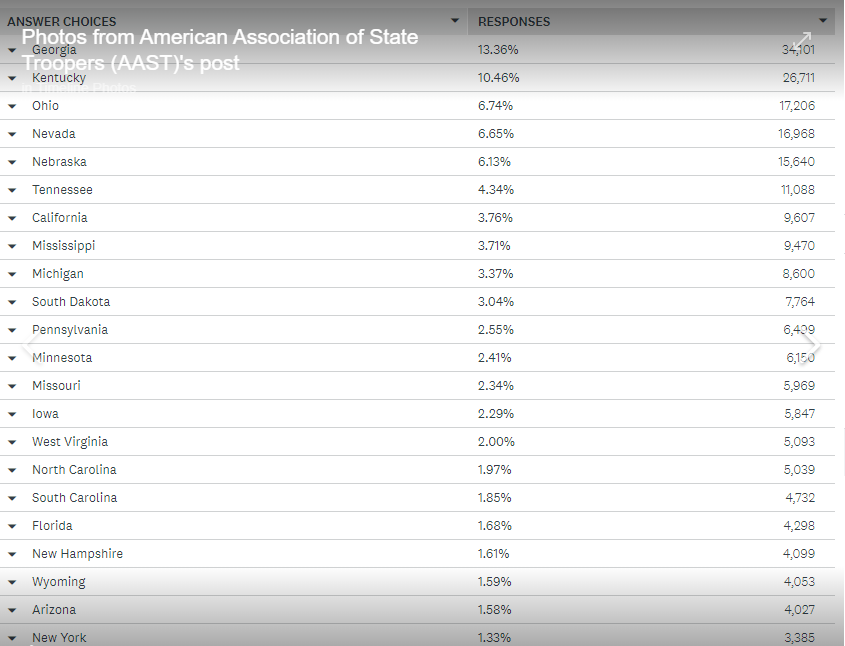 Link to Iowa State Patrol Cruiser Photo Entry
ABOUT THE IOWA DEPARTMENT OF PUBLIC SAFETY
The Iowa Department of Public Safety (DPS) is the largest law enforcement agency in the state. It includes six divisions and several bureaus, all working together with local, state and federal government agencies and the private sector, to keep Iowa a safe place by following our core values: leadership, integrity, professionalism, courtesy, service and protection. Divisions within the Iowa DPS: Iowa Division of Criminal Investigation, Iowa Division of Narcotics Enforcement, Iowa State Patrol, Iowa State Fire Marshal Division, Iowa Division of Intelligence and Fusion Center, and Administrative Services Division. The Department of Public Safety is led by the Commissioner who is appointed by the Governor.