Iowans Challenged to Do Their Part to Reduce Traffic Fatalities Below 300
Multiple Media Contacts Below
Iowa State Patrol & Iowa DOT
Media Contacts:
Alex Dinkla, Sergeant, Iowa State Patrol
515-443-6644 dinkla@dps.state.ia.us
Andrea Henry, Director, Iowa DOT Strategic Communications
515-203-1734 andrea.henry@iowadot.us 
June 8, 2021
DES MOINES, Iowa – Annual traffic fatalities in Iowa have not been below 300 since 1925. Working to reduce traffic fatalities and help address dangerous driving behaviors, a group of public and private traffic safety officials launched the Iowa Traffic Fatality Reduction Task Force in January of 2021. 
The task force held a press conference earlier today to share alarming data and trends for Iowa's traffic fatalities, and share their multi-faceted approach to fatality reduction focusing on education, enforcement, engineering and legislation. 
The safe driving campaign, Drive Safe Iowa: The Power Is In Your Hands was shared during the event. The campaign is aimed at educating drivers on the essential role they play in using safe driving habits to reduce roadway deaths and preventable injuries. It focuses on the four most dangerous driving behaviors – speeding, impaired, distracted, and not buckling up. 
The daily Iowa Traffic Fatality Count, available from the Iowa DOT, shows fatalities are already trending higher than last year at the end of May. In the month of May alone, Iowa had 41 traffic fatalities, which is the highest death count for this month over the past six years. The last time May finished near this fatality level was in 2016 with 39 deaths on the roadways. That year finished with a total of 402 fatalities.
This recent spike in fatalities comes on the heels of a year when COVID-19 wrote a new chapter of excessive speeding and other dangerous driving behaviors in Iowa. For a brief time last spring, law enforcement saw significantly lower traffic volumes as Iowans stayed home and took measures to reduce community spread. As traffic volumes increased in the summer of 2020, fatalities rose dramatically, returning to pre-pandemic volumes with 337 fatalities by the end of the year. 
"We're addressing safe driving from every angle and challenging all Iowans to prevent fatalities before their family loses a loved one," said Iowa Traffic Fatality Task Force Chair and Governor's Traffic Safety Bureau Chief Patrick Hoye. "As we work toward zero fatalities, our incremental target for 2021 is under 300. If achieved, this will be the first time Iowa traffic fatalities are under 300 lives since 1925," he added.
As the country continues to open up, summer will bring more holiday gatherings, festivals, graduations and vacations; all involving travel. Typically, some of Iowa's highest traffic fatality months are June, July, August and September between the Memorial Day and Labor Day holidays.
Key Iowa Traffic Trends
•    The comprehensive cost of fatal crashes on Iowa's streets and highways exceeds $3.5 billion annually.
•    Iowa traffic crashes have claimed nearly 3,500 lives in the last 10 years. 
•    Iowa has not experienced fewer than 300 roadway fatalities in a year since 1925. The 2020 fatality count was 337, with 336 fatalities in 2019, 319 in 2018, 331 in 2017 and 402 in 2016. 
•    Excessive speeding continues to be a major traffic safety issue. Law enforcement data shows citations for traveling more than 25 mph over the speed limit are up 36% over the five-year average, with 1,434 drivers cited in 2020 and 1,326 cited already in 2021. Data shows those drivers cited for traveling more than 100 mph are also increasing at an alarming rate, up 32 percent over the five year average.
•    This year marks 35 years of Iowa having a primary seat belt law. In 2020, of the 338 people killed in crashes on Iowa's highways, 125 were either unbuckled or law enforcement was unable to determine the seat belt use. However, Iowa's most recent seat belt survey shows more than 94% of front seat occupants buckle up, leading to the conclusion that the six percent who don't buckle up are most at risk of injuries and fatalities in a crash. 
•    In 2020, nearly 36% of fatalities tested positive for either alcohol or drugs. Lives lost to impaired driving in 2020 is up 9% from 2019.
•    Distracted driving is more difficult to capture in crash data. However, we do know that in 2019, distracted driving was identified as a contributing circumstance in nearly 1,100 crashes. A distracted driver is more likely to be involved in rear end collisions, change lanes erratically, fail to stay in their own lane, and a number of other crash-inducing behaviors that can be extremely dangerous, if not deadly.
June 9-12 Pre-Father's Day Enforcement
As part of the task force's initiatives, law enforcement agencies across Iowa will be conducting a special enforcement event geared toward the reduction of impaired drivers June 9-12 leading into the Father's Day time period. Father's Day ranks fifth out of the 10 deadliest holidays. 
Press Conference Materials:
LINK TO IN-CAR CAMERA FOOTAGE OF ISP CRASH
LINK TO DIGITAL PRESS KIT
LINK TO PRESS CONFERENCE FACEBOOK LIVESTREAM
Press Conference Photos: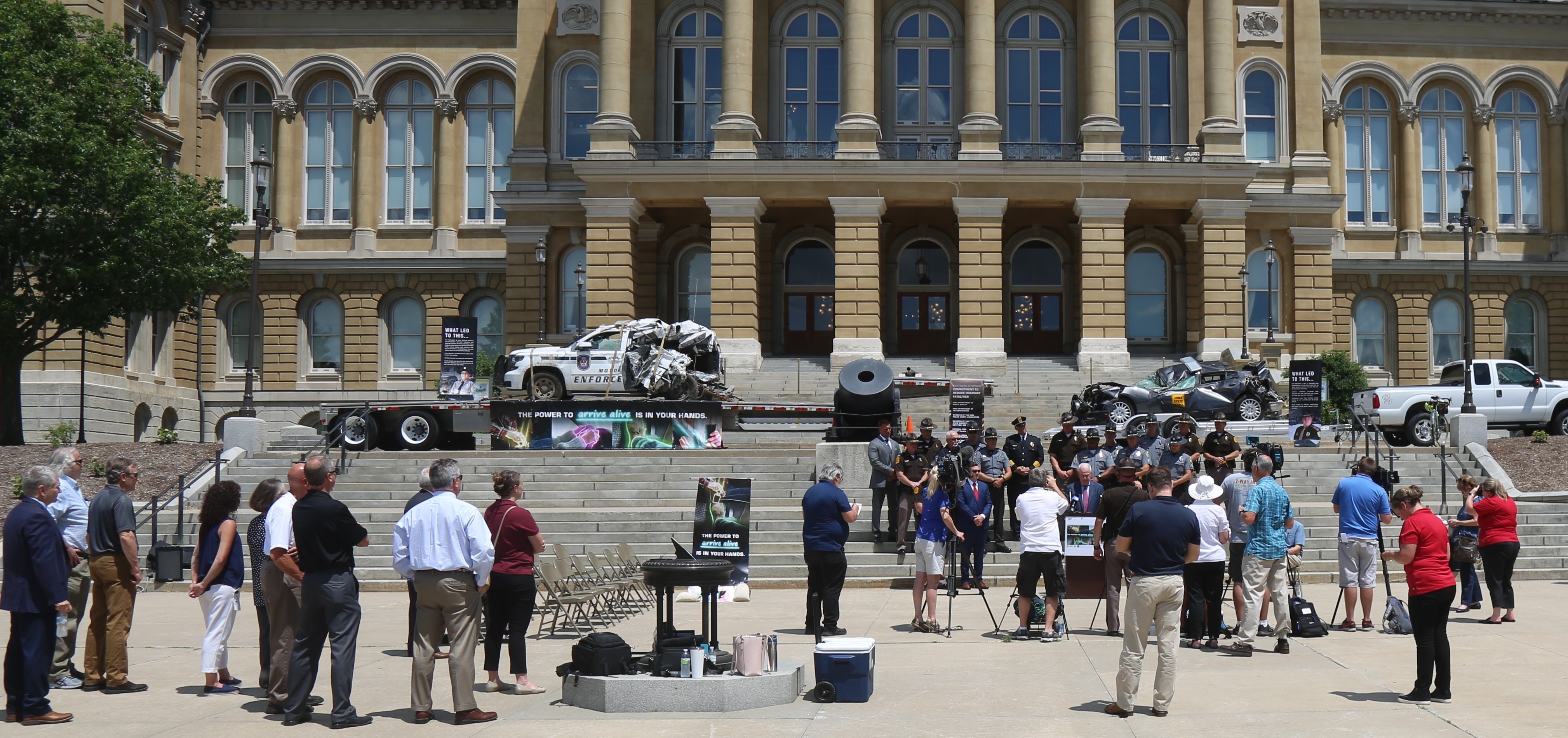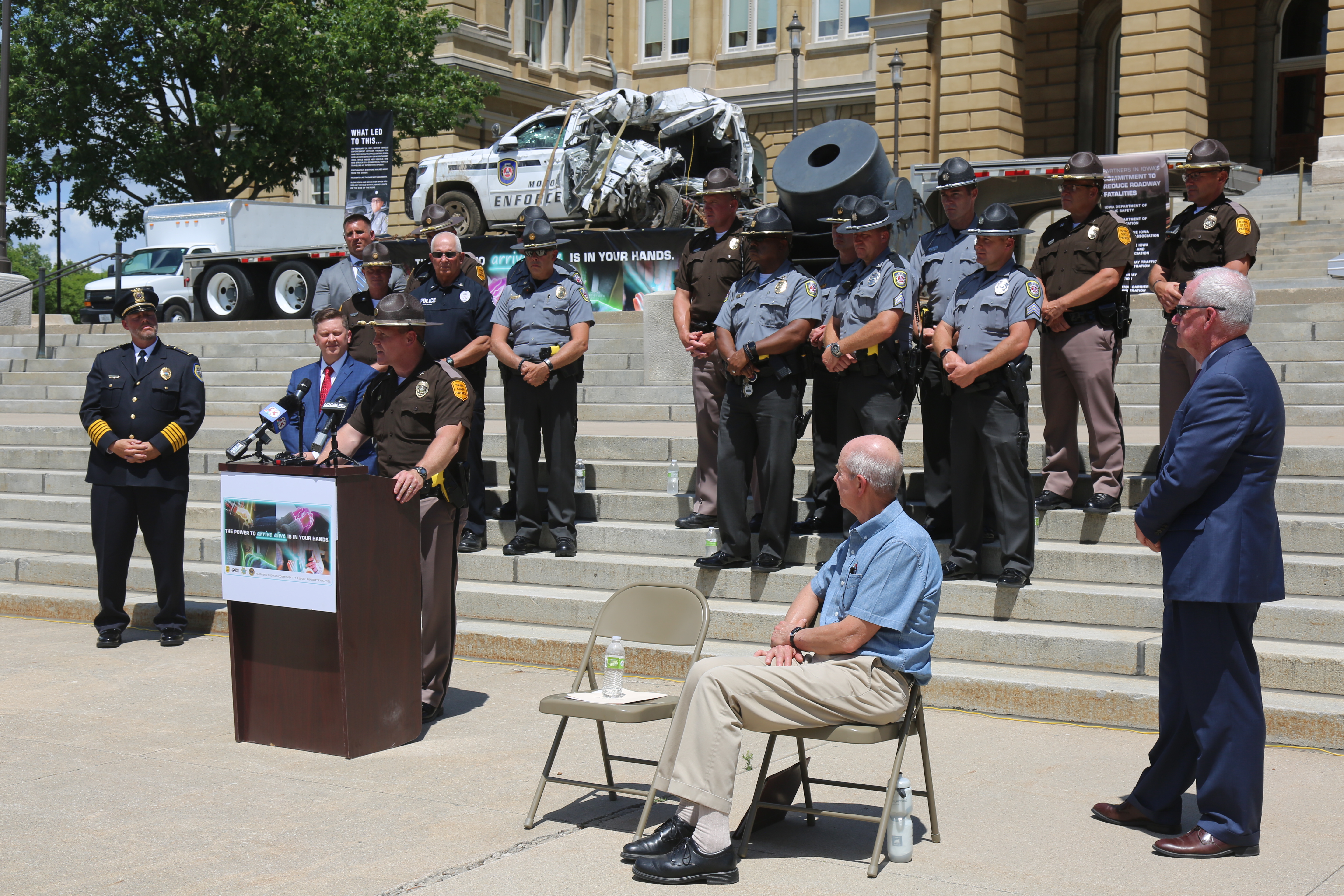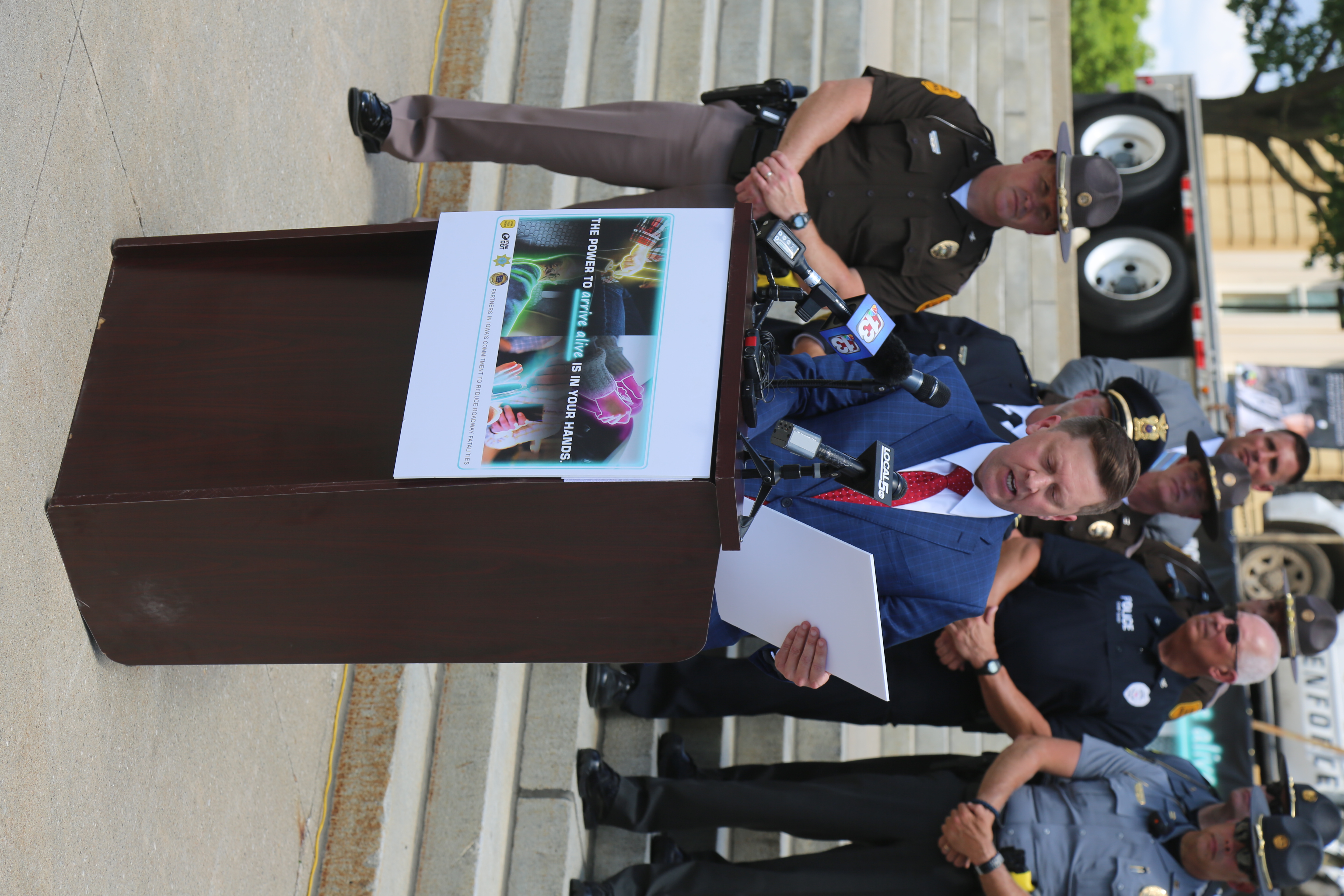 About the Iowa Traffic Fatality Reduction Task Force 
Iowa's multi-discipline Traffic Fatality Reduction Task Force was created in 2021 to implement educational, enforcement and legislative initiatives to help Iowa achieve the target of less than 300 traffic fatalities annually, with the ultimate goal of zero fatalities. Enforcement is one key element to reduce fatalities. 
The task force is led by the Governor's Traffic Safety Bureau, the Iowa Department of Transportation, the Iowa State Patrol, Iowa State Sheriffs' and Deputies' Association and Iowa State Police Association. Other key partners include the National Highway Traffic Safety Administration, Federal Highway Administration, Federal Motor Carrier Safety Administration, Iowa State University and AAA of Iowa/Minnesota.
For more information on the task force and its work, contact Patrick Hoye, Governor's Traffic Safety Bureau at 515-725-6120 or hoye@dps.state.ia.us 
ABOUT THE IOWA DEPARTMENT OF PUBLIC SAFETY
The Iowa Department of Public Safety (DPS) is the largest law enforcement agency in the state. It includes six divisions and several bureaus, all working together with local, state and federal government agencies and the private sector, to keep Iowa a safe place by following our core values: leadership, integrity, professionalism, courtesy, service and protection. Divisions within the Iowa DPS: Iowa Division of Criminal Investigation, Iowa Division of Narcotics Enforcement, Iowa State Patrol, Iowa State Fire Marshal Division, Iowa Division of Intelligence and Fusion Center, and Administrative Services Division. The Department of Public Safety is led by the Commissioner who is appointed by the Governor.