'A TRUE CALLING': Fort Dodge Iowa State Patrol lieutenant promoted to captain
Debbie McClung
Strategic Communications Bureau Chief
March 1, 2021
FORT DODGE, Iowa - A local member of the Iowa State Patrol assumed a new role Nov. 2 after 31 years of service in law enforcement, Captain Mark Miller, of Fort Dodge, got another promotion after serving as a lieutenant for four years. The son of a Sioux City policeman and brother of an officer in Sioux Falls, Miller has followed a calling that started forming as a child. He started with the State Patrol when he was 21.
"You can be called to things in life, and for me it was a true calling that I followed," he said. For the 24-year U.S. Air Force and Iowa Air National Guard vet, the calling to wear his uniform isn't just one of enforcement, but one of service.
"I've been given a lot of chances to help people throughout my career, both the public and other officers," Miller said. "The most memorable nights for us are the nights you can see you've made a difference in someone's life."
It's a broad range that can vary from helping a stranded motorist out of a snow storm to being a shoulder to cry on when delivering a death notification to families. Other times, the most mundane duties like fixing a flat tire or helping drivers with car trouble can be gratifying too. But sometimes, it's something more.
"The most memorable (moments) are … the ones out of the blue you just weren't expecting to happen, and it just happens," Miller said.
One of his favorite examples came after pulling over a driver who was having trouble staying in his lane. "He was crying, he had gone through hard times and thought it was hopeless," Miller said. And as he struggled with the emotions leading to suicidal ideations, his swerving served as a liaison to calling for help from perhaps an unlikely authority.
"That half-hour talking to him on the roadside got him turned around," Miller said. "He realized people cared for him." In a profession often vilified in light of nationwide protests against police brutality, Miller said the interaction served as a reminder of his purpose.
"People that are called to this profession are really there to help people," he said. "It was just nice to be able to make a difference in a way other than enforcing a law on someone."
Iowa State Patrol troopers, the captain said, have a few defined goals. Often, they're focused on reducing traffic deaths by stopping the factors more likely to cause serious injury or death in traffic accidents: speeding, cell phone use, seat belt use and intoxicated driving. Since 1989, a lot of things have changed. When he started, Miller received a car, a gun belt, weapons, radio and phone card to use at payphones. Handheld radios had just become a thing. Now, computers have revolutionized communication and coordination. More prevalent cameras have recorded every step of the way.
Early in his career, competition was fierce for open positions and Miller, who had supervisory roles in District 7 for 20 years, said that "your word meant a lot" as a member in uniform. Public opinion polls decades ago showed that Iowans trusted the Iowa State Patrol second only to God.
"Now, if it doesn't show on video, it almost seems like it didn't happen," Miller said. As Miller's role changes to assume responsibility for 30 counties in western Iowa, he faces new challenges in a drastically changing landscape for law enforcement. In addition to public opinion challenges outside of rural Iowa, it's gotten much more difficult to recruit younger officers to smaller locations outside of the metropolitan areas. The throes of a pandemic introduced more extreme speeding to Iowa's highways — a problem that persists even more dangerously with traffic levels back to normal.
Now, Miller will serve as the eyes and ears to the Iowa State Patrol headquarters in Des Moines, where he anticipates spending a bit more time.
"The captain is responsible to make sure field offices have direction (from headquarters) and what they need to be successful," Miller said. "I can take all the experiences I've had over the years … take that knowledge, and share it and mentor people. A big part of my job is mentoring district commanders and making sure commanders mentor sergeants, and sergeants mentor troopers into future leaders and the best people they can be."
As times change drastically, the captain is tasked with keeping an open line between Des Moines and western Iowa, as well as ensuring districts are consistently prepared with the budget, equipment and manpower they need to serve Iowa. But Miller also will have a few questions to answer. "How do we regain public opinion and trust, and move forward for citizens...to serve them? How do we as an organization need to make changes as society changes?" he asked.
There are no easy answers to those questions, but he thinks the key to those answers lies with the next generation. "Part of it is looking to young people," Miller said. "They're in tune with what's going on these days. We've got to look at them for some of these answers and to give them the right mentoring and leadership so that they're able to take us into the future." But as his seniority becomes more apparent given more decades under his belt than most in this profession, Miller has no regrets about spending both his youth and his entire law enforcement career with the Iowa State Patrol.
"I tell you, there's not another career I'd want to be in," he said.
Author: Elijah Decious, Reporter, edecious@messengernews.net
Reprinted with permission from The Messenger, Fort Dodge, Iowa.
Photo: Captain Mark Miller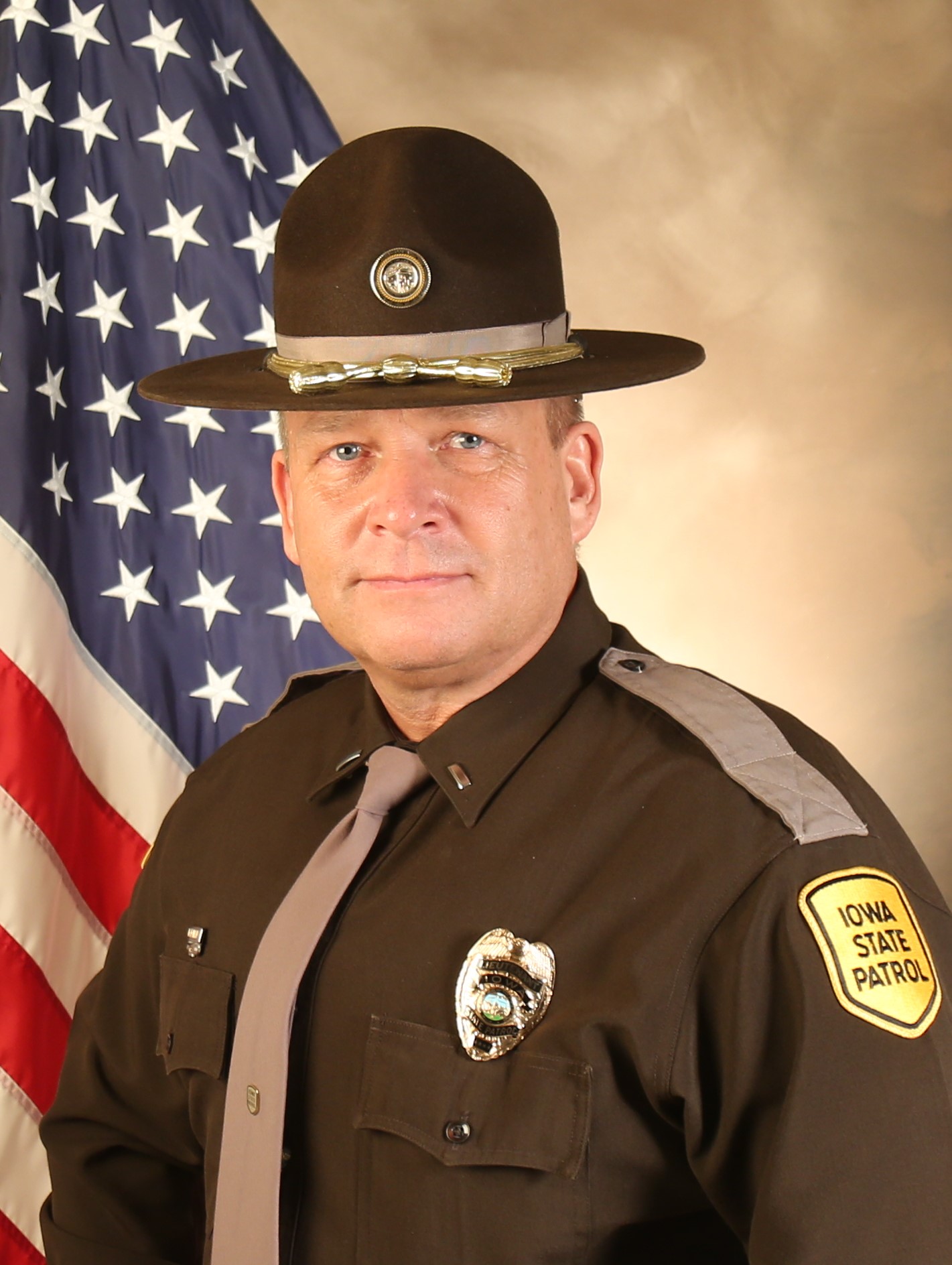 ABOUT THE IOWA DEPARTMENT OF PUBLIC SAFETY
The Iowa Department of Public Safety (DPS) is the largest law enforcement agency in the state. It includes six divisions and several bureaus, all working together with local, state and federal government agencies and the private sector, to keep Iowa a safe place by following our core values: leadership, integrity, professionalism, courtesy, service and protection. Divisions within the Iowa DPS: Iowa Division of Criminal Investigation, Iowa Division of Narcotics Enforcement, Iowa State Patrol, Iowa State Fire Marshal Division, Iowa Division of Intelligence and Fusion Center, and Administrative Services Division. The Department of Public Safety is led by the Commissioner who is appointed by the Governor.