UPDATE #3 - DCI ASSISTING NORWALK POLICE WITH DEATH INVESTIGATION
Greg Staples
Chief of Police
September 16, 2022
Norwalk, Iowa - On September 15, 2022 at approximately 12:30am, the Norwalk Police Department was notified of a potential stabbing in an apartment at 608 Knoll Drive. On arrival, officers encountered a male subject who was later arrested on outstanding unrelated charges. Upon further investigation, officers located Karisa Shendelman, with multiple stab wounds, deceased inside the apartment. The deceased was 31 years old.
The investigation is being treated as a homicide and is ongoing. At this time there have been no criminal charges issued. There remains no danger to the public related to this incident.  
The Iowa Division of Criminal Investigation is assisting the police department with the investigation. 
September 15, 2022
Norwalk, Iowa - This is not a press release from the Iowa Department of Public Safety. It is being distributed on behalf of the Norwalk Police Department as a result of the Division of Criminal Investigation's participation in this investigation.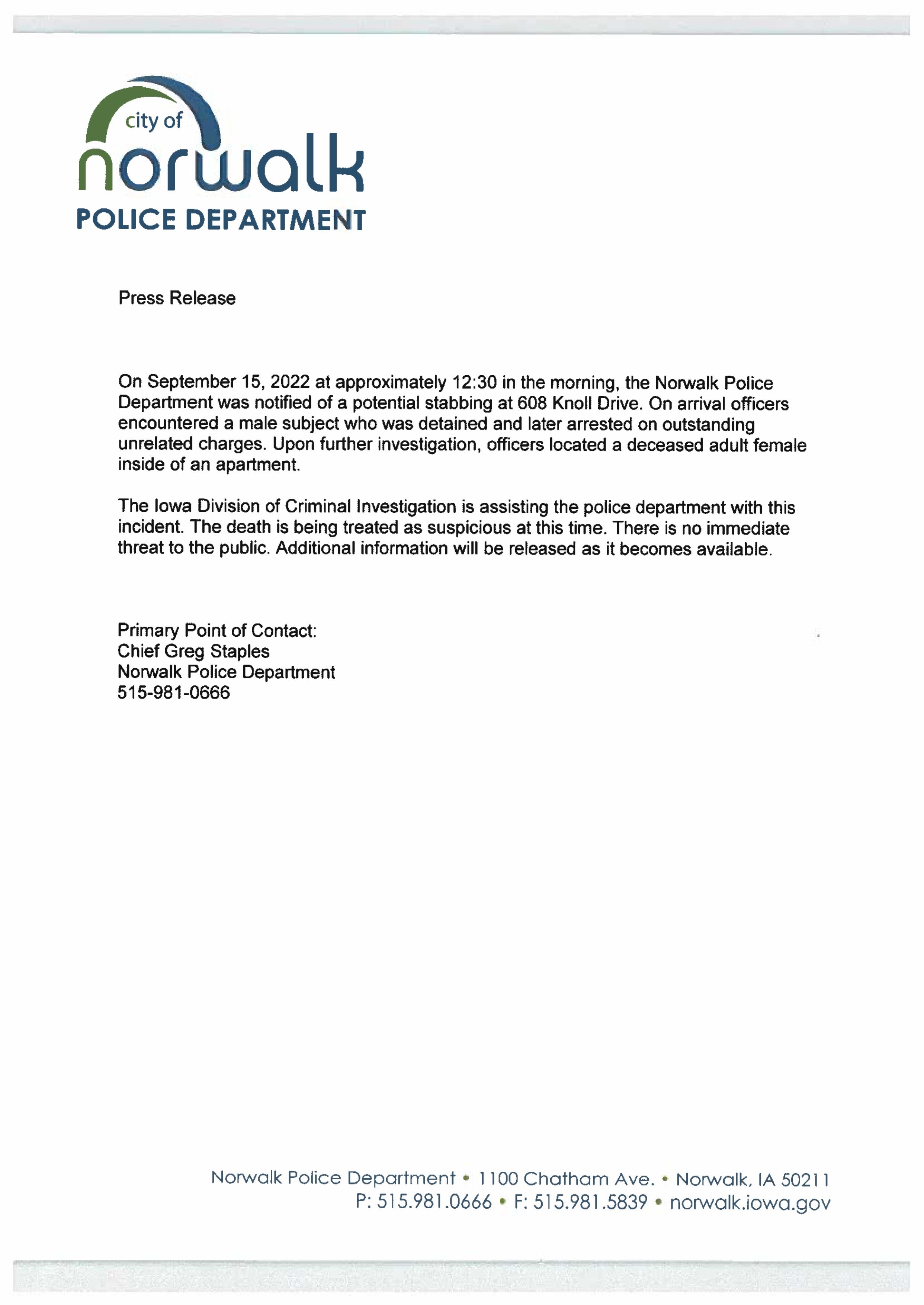 September 15, 2022
Norwalk, Iowa - At approximately 0030 hours on September 15th, Norwalk officers were dispatched to a report of a death in the 600 Blk of Knoll Drive. Agents from the DCI were contacted to assist with the investigation. There is no danger to the public.
There is no additional information at this time. Further details will be released later today. 
ABOUT THE IOWA DEPARTMENT OF PUBLIC SAFETY
The Iowa Department of Public Safety (DPS) is the largest law enforcement agency in the state. It includes six divisions and several bureaus, all working together with local, state and federal government agencies and the private sector, to keep Iowa a safe place by following our core values: leadership, integrity, professionalism, courtesy, service and protection. Divisions within the Iowa DPS: Iowa Division of Criminal Investigation, Iowa Division of Narcotics Enforcement, Iowa State Patrol, Iowa State Fire Marshal Division, Iowa Division of Intelligence and Fusion Center, and Administrative Services Division. The Department of Public Safety is led by the Commissioner who is appointed by the Governor.