(UPDATE) Poweshiek County Sheriff's Office, Iowa State Patrol and Division of Criminal Investigation Investigating Shooting Death
Mitch Mortvedt
Assistant Director - DCI
October 5, 2023
Malcom, Iowa - On October 3, 2023, at approximately 8:10 am, the Iowa State Patrol responded to the reports of a stranded vehicle located on Interstate 80 at the 187 mile marker, heading westbound (Poweshiek County). During the response, Troopers located a male (identified as Jihad Abdul Malik Gasaway-23 years old) who was attempting to re-start a stalled vehicle. After an initial investigation, Gasaway was temporarily detained and the Troopers located a handgun in Gasaway's pocket. During the search of the vehicle, the body of an unresponsive black male (later identified as Kemp Xavier Sherrod Harriel-26 years old) was located on the floor and slumped over the passenger seat of the vehicle. Harriel's body was concealed underneath clothing items and appeared to have suffered gunshot wounds. The Troopers requested medical services and the male was pronounced deceased at the scene. Investigators examined the vehicle and determined the shooting incident had occurred inside passenger area of the vehicle. 
Gasaway was transported to the Poweshiek County Sheriff's Office and was charged with Abuse of Corpse, a Class C Felony, where he was held at the Poweshiek County Jail on a $50,000 bond.
On October 4, 2023 the Iowa State Medical Examiner's Office determined Harriel died of two gunshot wounds to the chest and the manner of Harriel's death was a homicide. 
On October 5, 2023 Gasaway was also charged with Murder in the First Degree, a Class A Felony for his involvement in Harriel's death.  Gasaway remains in custody at the Poweshiek County Jail.
The case remains under investigation by the Poweshiek County Sheriff's Office, the Iowa State Patrol, and the Division of Criminal Investigation.
Affidavit and Complaint
Booking Photograph - Gasaway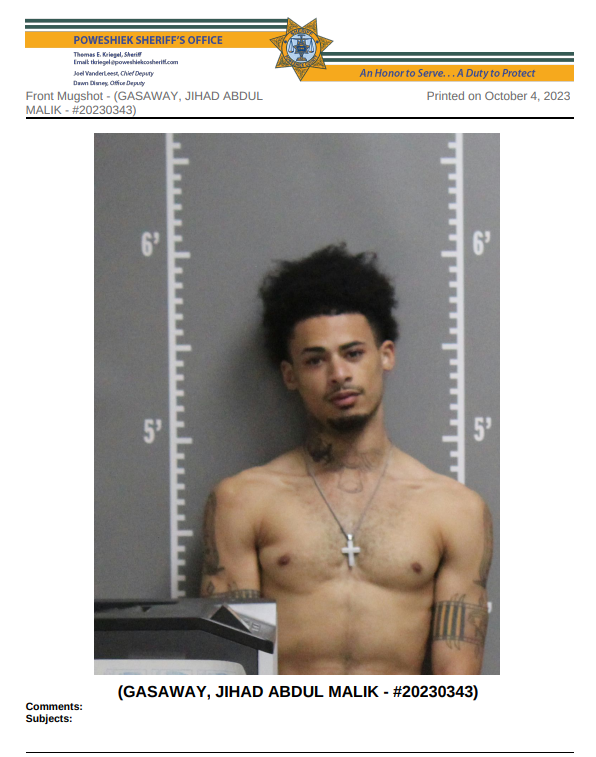 No further information will be released at this time. 
Note: A criminal charge is merely an accusation and a defendant is presumed innocent until proven guilty.
ABOUT THE IOWA DEPARTMENT OF PUBLIC SAFETY
The Iowa Department of Public Safety (DPS) is the largest law enforcement agency in the state. It includes six divisions and several bureaus, all working together with local, state and federal government agencies and the private sector, to keep Iowa a safe place by following our core values: leadership, integrity, professionalism, courtesy, service and protection. Divisions within the Iowa DPS: Iowa Division of Criminal Investigation, Iowa Division of Narcotics Enforcement, Iowa State Patrol, Iowa State Fire Marshal Division, Iowa Division of Intelligence and Fusion Center, and Administrative Services Division. The Department of Public Safety is led by the Commissioner who is appointed by the Governor.