U.S. Justice Department Awards Iowa Department of Public Safety's Child Abduction Response Team (CART) with National Certification 
Mitch Mortvedt
Assistant Director - Division of Criminal Investigation
February 17, 2023
DES MOINES, Iowa – Today, the United States Department of Justice awarded the Iowa Department of Public Safety's Child Abduction Response Team (CART) with its national certification for CART's efforts in developing, training, and activating a multidisciplinary team that is equipped to respond to and recover missing children. This Department of Justice certification, in partnership with the Office of Juvenile Justice and Delinquency Prevention (OJJDP), and the AMBER Alert Training and Technical Assistance Program (AATTAP), makes Iowa the 36th nationally-certified team and just the 7th statewide team to obtain this certification.  
Designed to further the Department's commitment to protecting children, the team, provides dedicated assets in response to a reported missing or abducted person and provides incident management, expertise, and resources for search and recovery. Since its inception, the CART program has grown through the training and experience of the Department's nearly 900 employees, and the relationships forged with law enforcement, first responders, emergency management agencies, search professionals, and the public. The Department remains committed to protecting, locating, and recovering missing and abducted children. The certification aligns with the Department's continued efforts to the protect all Iowans whether its through our Internet Crimes Against Children task force, AMBER Alert, Missing Person Information Clearinghouse, Office to Combat Human Trafficking, or the Governor's School Safety Bureau. 
Throughout the certification process, the Department demonstrated the knowledge and capacity required to locate and recover a missing or abducted child and exceeded the requirements set forth by AATTAP. In May of 2022, a mock abduction exercise was held at the Dallas County Fairgrounds. The exercise, which was monitored onsite by members of the AATTAP, allowed the team to showcase their operational readiness, implementation of protocols, and coordination with local agencies and non-governmental services. The exercise, ultimately, further served to prepare the team for an actual CART deployment.
Department of Public Safety Commission Stephan Bayens said, "Having the Department's Child Abduction Response Team become nationally certified recognizes our on-going commitment to provide professional service to our law enforcement partners and our communities. Having witnessed a CART deployment firsthand, I am honored to have the Department of Justice join me in recognizing the professionalism and determination that CART puts towards the recovery of missing or abducted children." 
About the AMBER Alert Training and Technical Assistance Program
The mission of the AMBER Alert Training and Technical Assistance Program (AATTAP) is to safely recover missing, endangered, or abducted children through the coordinated efforts of law enforcement, media, transportation, and other partners by using training and technology to enhance response capacities and capabilities and increase public participation.
 
The Child Abduction Response Team (CART) Certification Program through AATTAP has been developed to assist local, tribal and state jurisdictions in the creation and implementation of CART Programs. Leading subject matter experts, practitioners, policymakers and other child protection specialists have developed operational standards of excellence and evidence-based best practices related to the recovery of missing children. These professionals have worked with the U.S. DOJ and AATTAP to develop the certification process and criteria whereby jurisdictions can voluntarily seek an opportunity to demonstrate CART policy, procedures and continuous improvement strategies which meet 47 standards of compliance across an array of operational readiness areas. 
This established CART Certification process culminates in a rigorous practical field exercise, observed and evaluated by a team of trained assessors, to confirm a CART program's ability to rapidly and effectively operationalize, carrying out all functions and maintaining all critical documentation and records, over the life of an endangered or missing child incident.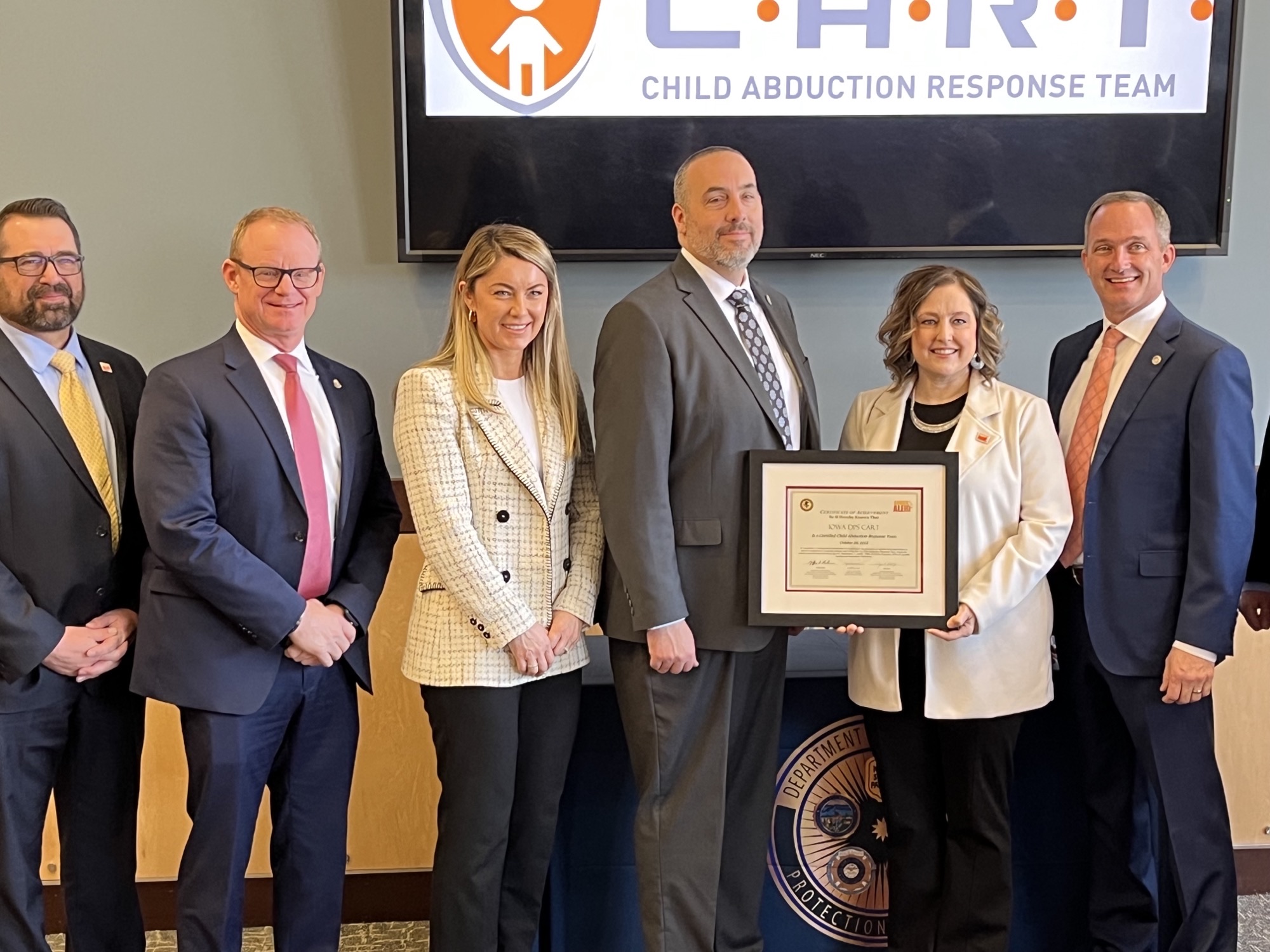 From left: Derek Van Luchene Program Administrator, AATTAP; DCI Assistant Director, Mitch Mortvedt; Medina Rahmanovic, Missing Person, Clearinghouse; Commissioner Stephan K. Bayens, Department of Public Safety; Janell Rasmussen, Administrator AATTAP; and Adam DeCamp, DCI Special Agent In Charge
ABOUT THE IOWA DEPARTMENT OF PUBLIC SAFETY
The Iowa Department of Public Safety (DPS) is the largest law enforcement agency in the state. It includes six divisions and several bureaus, all working together with local, state and federal government agencies and the private sector, to keep Iowa a safe place by following our core values: leadership, integrity, professionalism, courtesy, service and protection. Divisions within the Iowa DPS: Iowa Division of Criminal Investigation, Iowa Division of Narcotics Enforcement, Iowa State Patrol, Iowa State Fire Marshal Division, Iowa Division of Intelligence and Fusion Center, and Administrative Services Division. The Department of Public Safety is led by the Commissioner who is appointed by the Governor.