Athletics and Classes Prepare New Trooper For Public Safety Career
Debbie McClung
Strategic Communications Bureau Chief
February 18, 2021
Beth Sibenaller graduated from the Iowa Department of Public Safety Basic Academy and became a Trooper with the Iowa State Patrol. Sibenaller works out of the Spencer district and covers a northwest Iowa area roughly from Larchwood to Estherville.
Sibenaller, a 2019 graduate of Buena Vista University, says a combination of athletics and classroom instruction at BVU prepared her for this career.
"Dr. Richard Riner (BVU Assistant Professor of Criminology and Criminal Justice) in the Center for Criminal Justice Studies previously worked in law enforcement and his experience helped me prepare," says Sibenaller, a double-major in criminology and criminal justice, and Spanish. "Professor Riner was very realistic in his approach, showing us challenges we would face."
Sibenaller says a workout during the Academy reminded her of her time as a BVU basketball player, where she enjoyed a three-year career with the Beavers before taking one year off to study and reside in Spain. "We did a three-mile run one day and followed it with a pretty extensive workout," says Sibenaller, who also played BVU volleyball for one year. "The physical activity on days like that were similar to what we'd go through as basketball players. I am thankful for the work I did with BVU's strength and conditioning program."
Sibenaller, who participated in Espirit de Corps, the Spanish Honor Society, and served as a representative for the Sexual Assault and Relationship Violence organization on campus, says the liberal arts education and co-curricular experience also played vital roles in readying her for a career in Iowa law enforcement.
"As a Trooper, you may make a traffic stop and then get a call to assist a local police department or a county sheriff's department with an accident or something even bigger," Sibenaller says. "My experience at BVU taught me how to be part of a team, how to communicate with others, and how I have to manage my time and responsibilities to be the best I can while being pulled in different directions. I think I'll really enjoy being a Trooper because of the unexpected. Every day is going to be different."
(Credit Tim Gallagher, Storm Lake Radio)
If you're looking for purpose and meaning in what you do everyday - in a job and in your career - check out WWW.DPSCAREERS.COM. Learn about our open law enforcement positions, our benefits, outstanding retirement, minimum qualifications, 10-step application process, DPS Academy and more!
Trooper Beth Sibenaller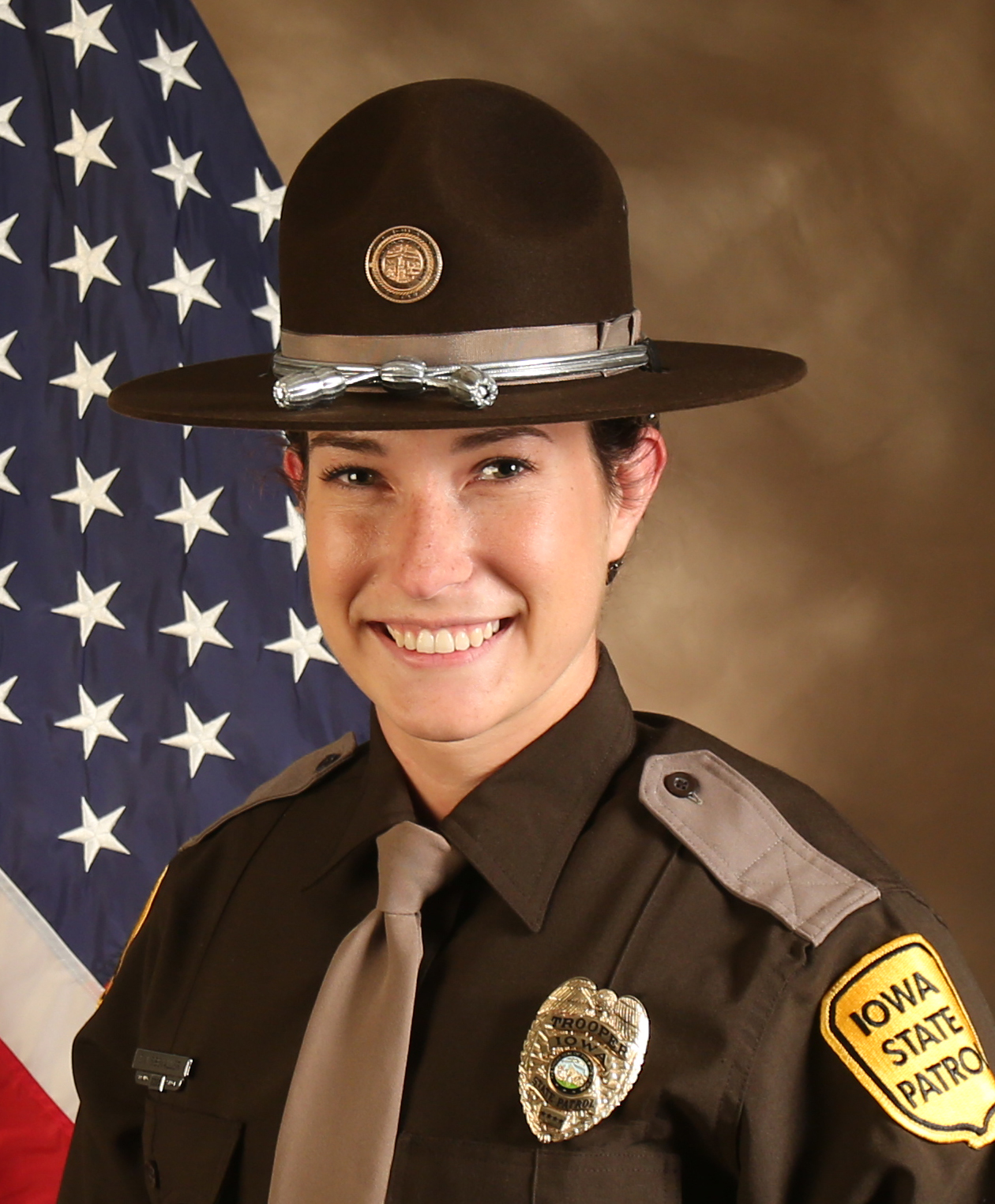 ABOUT THE IOWA DEPARTMENT OF PUBLIC SAFETY
The Iowa Department of Public Safety (DPS) is the largest law enforcement agency in the state. It includes six divisions and several bureaus, all working together with local, state and federal government agencies and the private sector, to keep Iowa a safe place by following our core values: leadership, integrity, professionalism, courtesy, service and protection. Divisions within the Iowa DPS: Iowa Division of Criminal Investigation, Iowa Division of Narcotics Enforcement, Iowa State Patrol, Iowa State Fire Marshal Division, Iowa Division of Intelligence and Fusion Center, and Administrative Services Division. The Department of Public Safety is led by the Commissioner who is appointed by the Governor.