Iowa State Patrol Fully Operational, Limits In-Person Access
Alex Dinkla
Public Information Officer - Iowa State Patrol
March 21, 2020
DES MOINES, Iowa – As the response to the COVID-19 virus continues to evolve, the Iowa State Patrol has announced it is limiting public access to its district headquarter offices to essential business in order to maintain the health and safety of law-enforcement staff.
While the Iowa State Patrol remains fully-operational and focused on the primary goal to protect the public, First Responders, communications dispatchers and law-enforcement personnel, citizens are encouraged to contact district offices by phone or email with non-essential questions. 
"We thank the public for its support as we take unprecedented steps to ensure our staff remain healthy and prepared to provide mission-critical public safety services to Iowans," says Iowa State Patrol Colonel Nathan Fulk.  
The map and phone numbers below are provided for Iowans in all 99 counties needing to contact their Iowa State Patrol District office. This contact information and more Iowa State Patrol District resources are available on the Iowa Department of Public Safety website at https://dps.iowa.gov/divisions/iowa-state-patrol/district-offices.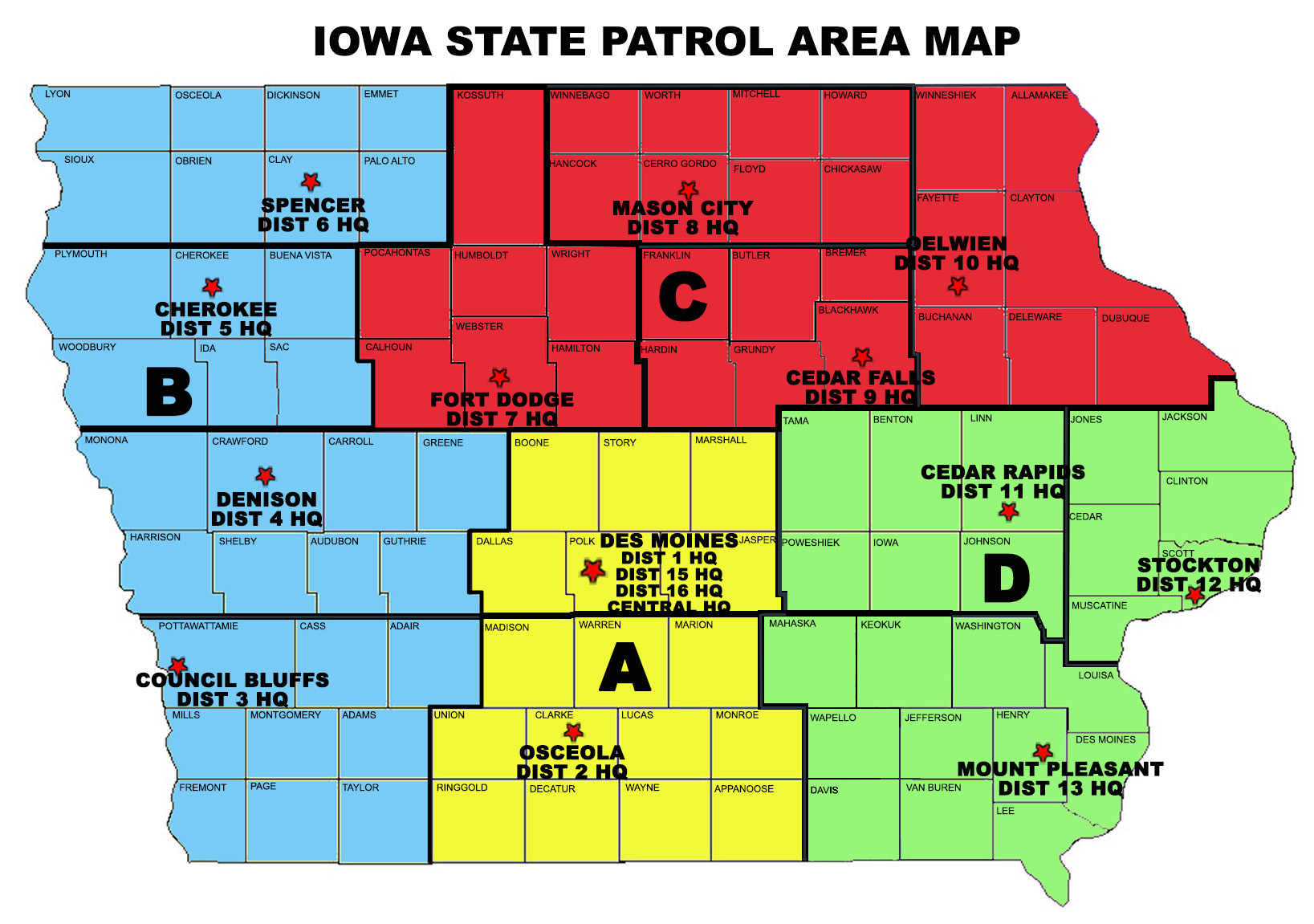 District 1: 515.725.0010
District 2: 641.342.2108
District 3: 712.328.8001
District 4: 712.263.4621
District 5: 712.225.5119
District 6: 712.262.1424
District 7: 515.972.4213
District 8: 641.424.3625
District 9: 319.266.2677
District 10: 319.283.5521
District 11: 319.396.1944
District 12: 563.284.9501
District 13: 319.385.8715
District 15: 515.281.4063
District 16: 515.281.3879
ABOUT THE IOWA DEPARTMENT OF PUBLIC SAFETY
The Iowa Department of Public Safety (DPS) is the largest law enforcement agency in the state. It includes six divisions and several bureaus, all working together with local, state and federal government agencies and the private sector, to keep Iowa a safe place by following our core values: leadership, integrity, professionalism, courtesy, service and protection. Divisions within the Iowa DPS: Iowa Division of Criminal Investigation, Iowa Division of Narcotics Enforcement, Iowa State Patrol, Iowa State Fire Marshal Division, Iowa Division of Intelligence and Fusion Center, and Administrative Services Division. The Department of Public Safety is led by the Commissioner who is appointed by the Governor.